Our 2022 – 2023 coaching staff
The Ullr Big Mountain coaching team offers the 'get up and go' of young coaches (who still compete and podium in the North American Freeride Circuit), and we temper this with the hard-earned wisdom of a coach who has been in the trenches for decades.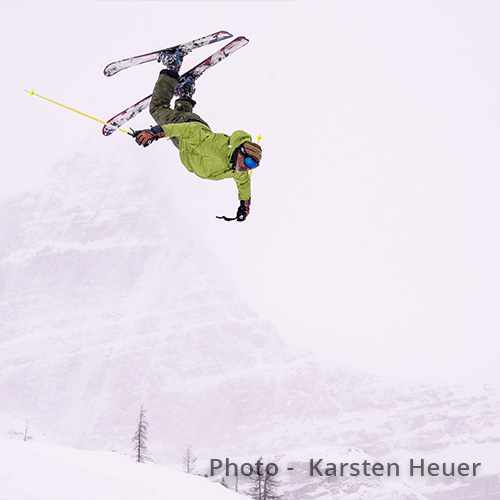 Jordy Burks
Program Director
Jordy was born in Banff .  He lives in Canmore with his wife, Carrie, and has 3 children.  Jordy has been involved in sports all his life.  He particularly enjoys rock climbing, mountain biking, and rugby, and he is an avid free skier and back country skier.
Jordy began his coaching career in 1987 as an alpine racing coach.  He has had 1 World Championship medalist at the junior level, numerous Canadian Champions and medalists, and Western Canadian Champions.  He has also moved athletes to the Provincial Team and the Canadian Team (at the junior and senior levels).
Looking for weekend work while completing his PhD, Jordy started the competitive branch of the Lake Louise All Mountain program.   In just a few years, he grew the program from 7 athletes to repeated seasons of over 40 athletes. To date, Jordy has had a freeride North American Champion in the boys 12 – 14 category. (Ullr Big Mountain currently has 3 podiums at the World Junior level).
Jordy has a technical certification in freestyle (club coach); is a level 3 CSIA instructor; a level 3 alpine ski coach; and a level 4b freestyle aerials coach.  He is also also trained to coach doubles on trampoline, and has done professional development in the IFSA coaching certification program, avalanche safety, skier cross, and is a level 1 mountain bike coach (PMBIA).
'Big Lou' is a Canmore native, and he learned his trade on the slopes of Lake Louise. Lou has been involved in competitive freeride since the age of 9, and his experience brings a wealth of knowledge to our athletes. Lou was on the Lake Louise ski patrol for 3 seasons and is the youngest patroller Lake Louise has ever hired full time. Lou currently competes in the adult IFSA freeride circuit and has had numerous podiums. He won the Revelstoke FWQ 4* in 2016; was 2nd in the 2017 'Wrangle the Chute' (FWQ 2*, 4*); and he won the 2016, 2017, 2018 Senior Big Mountain Challenge at our home hill.  Lou has been with Ullr from its inception and is mostly responsible for our 15 – 19 age group. Big Lou can definitely ski! However his ability to connect with the athletes, and his passion for the sport, also shine bright. Lou has a freestyle technical certification. He also has 80 hours of wilderness first aid, his air 3 (trampoline), a CAA operations level 1, and his IFSA coaching L100 certification.
One highlight of Lou's coaching career, to date, is that he coached skier Jack Kolesch to a 3rd place at the Freeride World Junior Championships in 2022.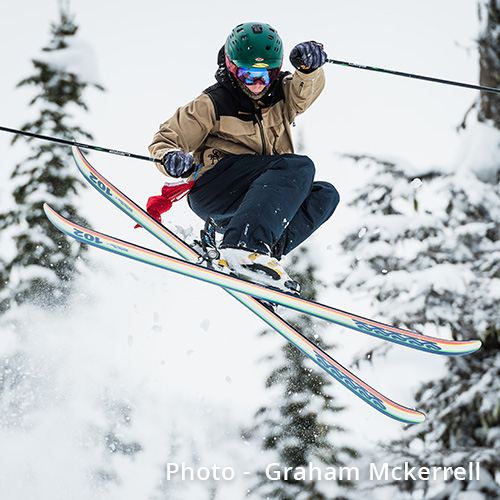 Andrew is another one of our coaches coming out of Canmore.  This will be his third year coaching with Ullr.  Andrew learned to ski at Lake Louise and it has been his 'happy place' ever since.  Andrew started competitive freeride at the age of 12.  He has had a number of podiums on the IFSA junior freeride circuit.  In 2018, Andrew was 3rd  at the Castle regional, the Big White regional, and the Lake Louise national.   In 2019, Andrew finished his season ranked 6th  in Canada.  He won the Lake Louise national event, and was 12th at the North American Championship.  Andrew has a technical freestyle certification, and a L100 IFSA coaching certification.  He also has his avalanche skills level 1, and his emergency first aid.  Andrew is a very natural coach, a fantastic athlete, and a great role model for the Ullr athletes.
Thibault de Sainte Maresville
Coach
Thibault grew up in a small town in the Alps near Grenoble.  He started skiing at the age of 2 and, at 16, competed briefly in freestyle.  Since then Thibault has chased the snow.  He has lived, worked, and skied in many places including England (where he skied on dry-slopes), Quebec, New Zealand, Argentina, and BC (Sun Peaks).   He worked for some time as a video game programmer, but did not like 'big city life.'
Thibault comes to us with an excellent coaching background.  He is in his 7th year instructing and coaching (sometimes skiing year round).    He currently is a level 1 CSIA course conductor for freestyle.  He has his level 3 CSIA with his International Ski Instructor's Association stamp (ISIA).   He also did his freestyle 'Super Coach,' and has his 4b aerials certification.   Thibault has his avalanche skills level 1; his standard first aid; his level 1 IFSA coaching certification; and is also a level 1 snowboard instructor (CASI).
Thibault is a fantastic all-around skier, and we are grateful for the maturity, technical know-how, and balance he offers our team.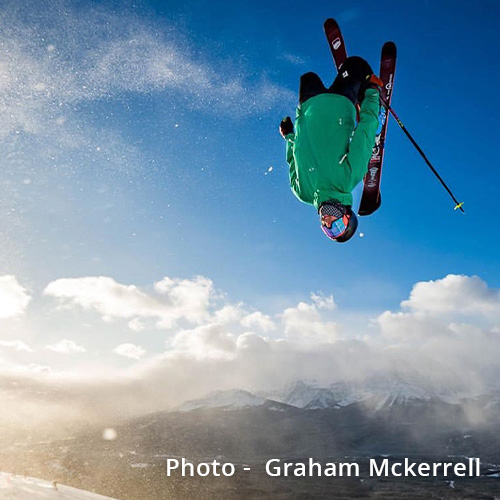 Eli Panning-Osendarp
Coach
Eli is born and bred in the Bow Valley. He has been skiing since he was 2, which now gives him a total of 24 years on skis. Along with coaching, Eli is a human geographer who does climate adaptation work for the Rockies Institute.
Eli started competing on the junior big mountain circuit at age 12 and ripped it up until he was 17. (His best finish was a 4th place at the Canadian Nationals at Red Mountain). In 2012, Eli traded his bib for a coach's pass and started helping younger RMF members (like his brother Lou) with line choice at competitions.
Eli has a technical freestyle certification, his air 2 (trampoline), and a L100 IFSA coaching certification. He also has his avalanche skills level 1, and his standard first aid.
Eli is as solid a skier as they come—with some rail skills to boot. Like Batman and Robin, the Panning-Osendarp brothers are Ullr's dynamic duo.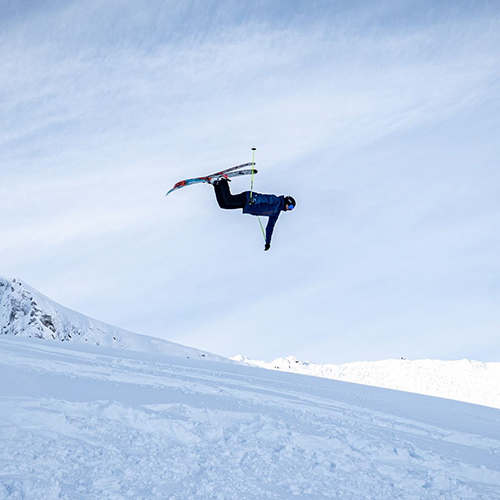 Keegan Morrone is from Calgary.  He began skiing at the age of two and, for a long while, split much of his time between skiing and competitive hockey.  Keegan grew up a stone's throw from Winsport.  He often trained slopestyle there in the evenings, went to Mt. Norquay, mid-week, and skied Big Mountain (with RMF) at Lake Louise on the weekend.
Keegan has over 8 successful years competing in the IFSA junior comp circuit (4th in Canada in 2016), and he went on to be a strong contender on the adult FWQ 4* circuit (placing 5th at Revelstoke in 2018).  Keegan has a diploma in architecture from SAIT and will soon have a business degree from MRU.  He now spends most of his winters in the backcountry shooting photos and video.
Keegan began coaching as a mountain bike instructor, and did this for 6 years (coaching different ages and abilities).  For the last 5 years he has been coaching Big Mountain out of Lake Louise.  Keegan has his technical freestyle certification; AST 1; First Aid Certification; and his L100 IFSA coach.
Keegan is in his 2nd season with Ullr.  He is an amazing athlete, a truly versatile skier and, best of all, he has the stoke of a freight train.
Kendra is from Calgary, and she has been skiing since the age of 2. Lake Louise has always been her home hill, but she will chase the powder anywhere! Kendra was a competitive highland dancer for 8 years, and has been a certified dance coach (with varying ages and abilities) for 5 years.  After moving on from the competitive dance world, at age 16, Kendra moved on to RMF, and then ULLR to begin competing in big mountain events.  Kendra has her L100 IFSA coach certification, her technical freestyle certification, and her first aid, as well as AST Level 1 and Wilderness First Responder certification.
This will be Kendra's first year coaching with ULLR.  She is a great technical skier; awesome with kids; and Team Ullr is stoked she is part of the coaching team!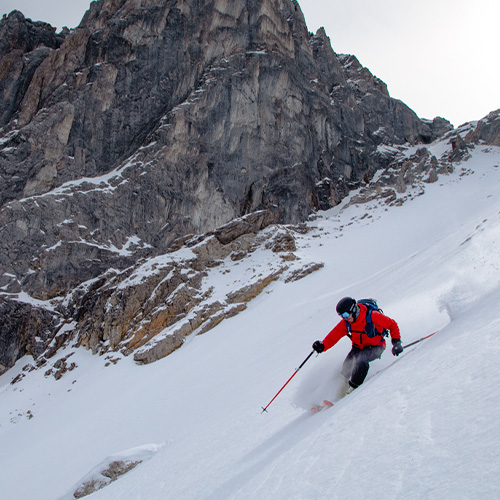 Born and raised in Calgary, Brodie grew up skiing at Lake Louise, from the age of two. It was there that he fell in love with big mountain skiing. He joined Rocky Mountain Freeriders (RMF) when he was 14, entering his first junior big mountain competitions.  At 16, Brodie, along with his twin brother and Jordy Kidner, were the first minors invited to the rowdy Wrangle the Chute competition at KHMR.  Skiing in the event alongside seasoned pros inspired Brodie to take a shot at being a pro skier.  After a major injury, he has set his sights on giving back to the community that has given him so much and guiding the next generation of freeriders.  Brodie coached for RMF for two seasons, before the amalgamation of RMF and ULLR Big Mountain.  This upcoming season will be his second with ULLR.
Brodie has his technical freestyle certification, L100 IFSA coach, CAA Operations Level 1, and Adventure Medic certification.  Brodie is a great skier; our go-to guy on equipment; and the kind of guy that can make any ski day fun.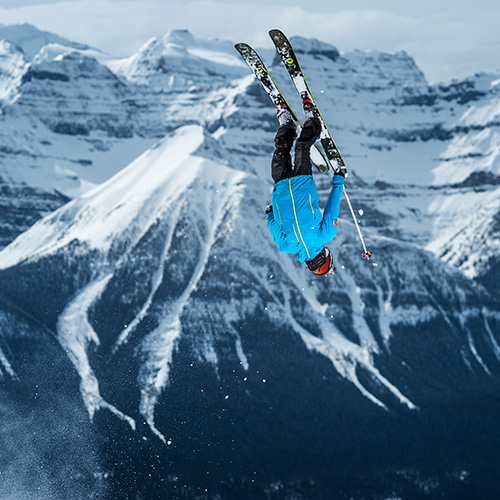 Ashton was born in Canmore.  He moved to Invermere when he was 3 and learned to ski at Panorama Mountain Resort.   Ashton came back to Canmore when he was 7 and, since then, 'The Lake' has been his home hill.  Ashton has skiing in his blood.  His dad, Darcy, is a ski guide that often helps with Ullr's backcountry program; his older brother Eli was a great big mountain skier; and Ashton himself is skiing eye-candy.  Ashton has been on the Jr. big mountain circuit for 5 years, and was with Ullr when it began.  He has had numerous big mountain podiums on venues from here to Whistler.  One of his best finishes was a 1st place at the Fernie Regional, and a 2nd place at the Lake Louise National.  His best ranking is 7th in Canada (4th going into the Nor-Am final in 2018).
Ashton has his technical freestyle certification.  This will be his first year as a coach for Ullr.  He is known for his smooth style, big airs, and easy-going personality.
James has worked at Lake Louise ski school for 4 seasons and spent a winter in Niseko Japan.  During his time at Lake Louise, he completed his CSIA level 2 Park certification, AST level 1, and his 80 hour wilderness first aid.
James had his first ever lesson on a dry slope in Scotland and was lucky enough to spend family holidays in the French Alps.
James has lived in Canada, all year round, for the last 5 years—though he took a short break to complete an honours degree in outdoor education.  In the summer, James spends his time as a white water raft guide on the Kananaskis and Bow River. James has his air 3 (air bag/water ramp) certification and his L100 IFSA coach certification.
James is in his 2nd season with Ullr Big Mountain!  He has a tonne of instructing nous; he's a disciplined technical skier, offering a great picture for the kids to copy; he's great in the air; and definitely our most skilled skier on rails.  We are super stoked to have him in the 'Ullr family!'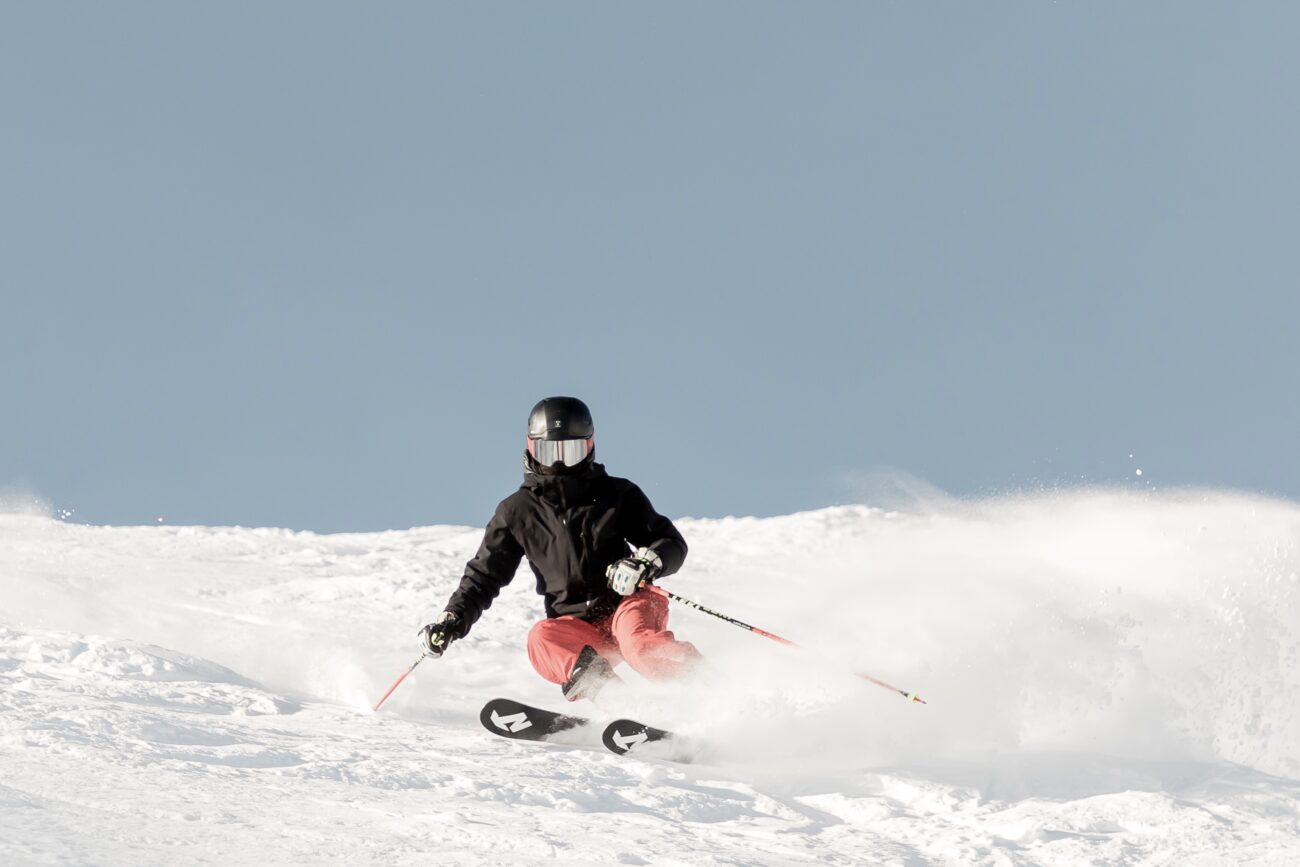 Nuha lives in Calgary and has skied most of her life. She competed in ski racing as well the IFSA junior freeride circuit, and is no stranger to the podium. Her best finish in Big Mountain was a 2nd place in the Fernie regional. She is an incredible athlete and a superb technical skier. Along with success skiing, Nuha has excelled at biathlon, triathlon, volleyball, and trail running.
Nuha is currently a full time student at Sir Winston Churchill. When she is not studying or skiing, she instructs mountain biking at WinSport, and is a sales associate at SportChek.
Nuha has her technical certification in freestyle; is a level 1 mountain bike coach (PMBIA); she has her standard first aid, CPR C and AED certifications, and national lifeguard swimming certification including swim bronze cross, bronze medallion, and NL.
Nuha's commitment to sports has given her lifelong friendships and mentors, and has taught her accountability and how to be a supportive and constructive person. She wants the athletes in her charge to access this also. She loves playing an active role in an athlete gaining confidence, discovering their inner abilities, and experiencing the freedom skiing can bring.
Nuha is a 'force,' and it's easy for our athletes to want to be their best around her.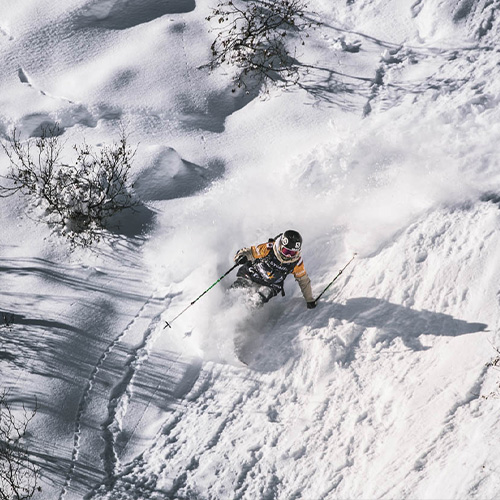 Jemma started skiing when she was 2 at Lake Louise, and it has been her home hill ever since. Her older brothers Keegan and Garrett started competing in big mountain at the ages of 12 and 8.  She says she was too young at the time to compete so she stood at the bottom with her parents and watched every one of their comps until she was old enough to compete herself. Once competing, Jemma was a crowd favorite, and had a knack for getting on the podium.  Jemma finished her junior career by going to the 2020 Junior World Championships in Austria where she finished 3rd!  She is now going into her second gap year, since graduating high school.  She is enjoying just skiing for fun, and hopes to follow in the footsteps of pro skiers like Tatum Monod.  Jemma has her technical freestyle certification.  She is a strong, smart, technical skier, and the young girls on our team (especially) love to ski with her.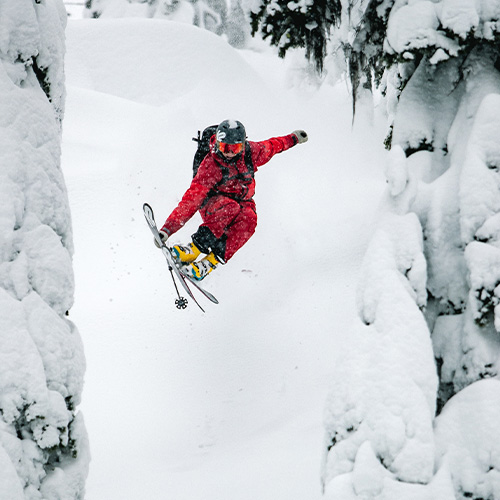 Garrett was born and raised in Banff, Alberta.  He has been skiing since he was two years old.  He grew up skiing around Lake Louise, chasing his older brother, Keegan, and his friends around the ski hill.  Garrett began competing on the junior freeride circuit when he was 13.  He was frequently on the podium, and one of those very special athletes we all wanted to watch.  Often Garrett introduced competition lines, or moves, that other athletes wanted to test themselves against, and he would start trends in skiing style.  Garrett later competed on the senior FWQ tour.  After some good results and a win at Wrangle the Chute, he decided to focus on the filming and photo side of the sport, where creativity can be highlighted more than it is in the contest scene.  In the past 3 years, Garrett has split his time between schooling in the fall at UBC, and then diving into winter mode at Revelstoke, B.C..  Garrett has his technical freestyle certification.
Garrett is a local skiing legend (as are his brother and sister) and he is the kind of skier young kids quickly gravitate to, and want to ski like.
Claire McPherson
Guest Coach
Claire McPherson lives on a ranch outside of Longview Alberta.  She skis out of Fernie, B.C., and Lake Louise Ski Resort.  She has been competing on the freeride circuit since she was 11 years old.  Since then she has won numerous big mountain competitions, including the 2020 Freeride World Junior Championship.  Today, at 17 years old, she is still competing in the IFSA junior freeride circuit, and skiing constantly while completing high school online.
Claire has her technical freestyle certification, her L100 IFSA coaching certification, and her standard first aid.  Claire is an outstanding skier; she has a ton of knowledge from her years competing; and she is super excited to share it with the next generation of skiers!  Team Ullr is very lucky to have her!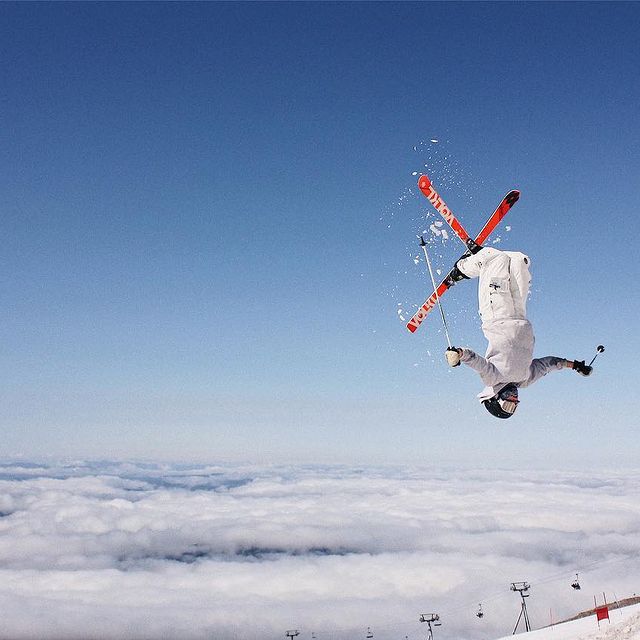 Clare was born and raised in Calgary and grew up skiing in the Rockies.  Clare is a retired member of the Alberta Mogul team and this background gives her a well rounded knowledge of the more technical aspects of skiing.  She feels fortunate to have worked with some of the best coaches in the world while competing on the NorAm circuit, and she draws on this in her own coaching.  Clare's best result was making finals in dual moguls at the NorAm in Val St Com, Quebec.  Her favorite memory was traveling to Zermatt, Switzerland to train right next to the Matterhorn!
Clare has her freestyle club coach certification and is a level one CSIA ski instructor. She also has a first aid certification and CPR.  In her free time Clare loves to skateboard, rock climb, do pottery, and play with her dog.
Clare's skill set adds depth to the Ullr coaching team.  What she learned as an elite mogul skier has been super helpful to broadening the skill of our big mountain skiers.  Clare exudes passion for skiing, and she loves working with anyone happy to shred, and learn. 
Cole is a professional skier born and raised in Canmore, Alberta.  He started skiing at the age of two.  From that moment on, Lake Louise has been his home hill.  After a successful stint ski racing, Cole moved to big mountain skiing for two seasons.  He then did a season of slopestyle.  In 2016, Cole won the IFSA North American Championship event at Whistler, and won the overall IFSA North American Championship.  In 2018, Cole placed 5th  in slopestyle, and 3rd  in half pipe, at the Canadian Junior National.  In 2019, Cole came back to the IFSA junior freeride circuit, and podiumed in a number of events.  Cole also won the Quiksilver Young Guns competition.  Cole is about as passionate about skiing as is humanly possible, and this seems to rub off on almost everyone he comes in contact with.
He has his freestyle technical certification
https://www.newschoolers.com/videos/watch/905186/-SZN-MIX–COLE-RICHARDSON
https://www.youtube.com/watch?v=5hJ-G96DCR4